If you've never had a "Dutch Baby", often referred to as German Pancakes, then you may have never breakfasted satisfactorily. I've tried many recipes for these German delights; though I have not found a recipe as simple or as tasty as Alton Brown's. Interestingly though, he refined this recipe after receiving several negative comments about its result.
In the end, Brown got it right. I'll link to his recipe so you can try this yourself; however, I will say that I used basic brands found at my local supermarket. Some culinarily refined home cooks may find these less than acceptable. That's okay by me.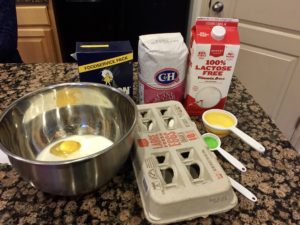 Also important to mention, you can use a glass dish but would be wise to use a good cast iron "Dutch" oven for this recipe. Seems most appropriate.